What is Sexual Assault?
Sexual assault is forced, manipulated or coerced sexual contact. It includes rape, child sexual abuse, same-sex assault, acquaintance rape, harassment and marital rape. The perpetrator uses sex to inflict physical and emotional violence and humiliation on the victim, or to exert power and control over the victim.
Sexual Assault Information Sheet
Sexual Assault in Intimate Relationships
Common Reactions of Sexual Assault Survivors
Myths and Realities of Sexual Assault
Nebraska's Sexual Assault Laws
Sexual Assault Victims' Bill of Rights
Healthy Sexual Interactions - Got Consent?
Speak Out Against Rape Culture!
You Are Not Alone - Information for Survivors of Sexual Assault - CHINESE
You Are Not Alone - Information for Survivors of Sexual Assault - VIETNAMESE
You Are Not Alone - Information for Survivors of Sexual Assault - ENGLISH 
Medical Care
It is important to get medical care after a sexual assault as soon as possible. You may have injuries you don't know about or your injuries may be worse than you think. You may also be at risk for sexually transmitted infections (STIs) or unintended pregnancy.  Healthcare providers can examine you for injuries and provide treatment for STIs. In some cases, you can also get medication that will prevent STIs or pregnancy.  Keeping your body healthy is an important part of healing from the assault.
Federal and state law requires that sexual assault victims must be able to receive a forensic exam without paying for it.  In Nebraska, the exam is paid for by the state's Sexual Assault Payment Program Cash Fund.  This fund should pay for the examination, the facility fee, any lab fees for pregnancy testing, testing for sexually transmitted infections (STIs), and the collection and processing of evidence.  These costs should not be billed to you or submitted to your insurance.
You or your insurance could be billed for expenses related to medical treatment, such as medications for injury or infection (e.g. pain killer, antibiotics), x-rays, MRIs, or a doctor's fee that is billed separately from the hospital, and not covered by the Sexual Assault Payment Program Cash Fund.
Prison Advocacy
The Coalition recognizes the significant and unique barriers that incarcerated victims of sexual assault face in securing safety and healing.  To ensure these individuals have a place to turn, the Prison Sexual Assault Hotline has been established.  This line is a secure, confidential option for victims in the detention centers under the direction of the Nebraska Department of Correctional Services.  Advocates who staff this line have special training in sexual assault, victim support, prison dynamics, resources, and referrals.  Most importantly, the advocates will provide impartial, non-judgmental support to those who utilize this resource.  Advocacy services are founded on the solid foundation that no one deserves to be sexually assaulted, and all victims should have free, confidential access to support for healing. 
To reach an advocate, inmates can dial: 07# and use PIN: 333-333-333.  The Prison Advocacy Coordinator can be reached through privileged, confidential mail:

The Nebraska Coalition
245 S. 84th St., Suite 200
Lincoln, NE 68510

Support persons of incarcerated victims can also reach the Prison Advocacy Coordinator at the Nebraska Coalition for information, referrals, and support at:     402-476-6256.
Safe for the Sentence Brochure
Safe for the Sentence Brochure - Spanish
Mandatory Medical Reporting
The Nebraska Attorney General's Office in cooperation with the Nebraska State Patrol, and Nebraska Coalition to End Sexual and Domestic Abuse have released a best practice Medical Sexual Assault Protocol. We hope this assists in further creation of standards around Sexual Violence in our State. (Released June 2019)
Nebraska Medical Sexual Assault Protocol 
Barriers to Helpseeking for Sexual Violence Survivors in Nebraska
This report investigates the extent to which survivors of sexual violence in Nebraska seek out services from domestic violence and sexual assault (DV/SA) programs serving rural communities as well as the factors surrounding survivors' decisions to seek out help.
Drawing from a review of local, state, and national data as well as feedback provided in focus groups conducted with survivors of sexual violence, the authors conclude that the vast majority of sexual violence survivors in Nebraska do not seek out help from local DVSA programs.  The report examines barriers to helpseeking and provides recommendations for mitigating these barriers.
Who is Not Served - Barriers to Helpseeking for Sexual Violence Survivors in Nebraska Report - 2020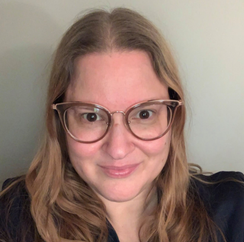 Visionary Voice Award
The Nebraska Coalition to End Sexual and Domestic Violence announces that Suzannah Rogan is Nebraska's recipient of the National Sexual Violence Resource Center Visionary Voice Award. Rogan was one of a diverse group of honorees from across the country who were selected for their creativity and outstanding work toward ending sexual harassment, misconduct, and abuse.
Suzannah Rogan (she/her) is a Diversity, Equity, and Inclusion Specialist at Doane University (Crete, NE) and is the director of the Campus Advocacy, Prevention, and Education (CAPE) Project. The goal of the CAPE Project is to shift campus and community social norms to increase trauma-informed networks of support for survivors of interpersonal violence while decreasing incidents of sexual assault, dating/domestic violence, and stalking through inclusive prevention and education programs.
As the CAPE Project Director, Rogan has been instrumental in leading violence prevention efforts across Doane University's three campuses. Her work was successful due to the rigorous training program for and the subsequent work of her peer educators – an influential group of students creating and implementing prevention programs.
Rogan is a member of Nebraska's Sexual Violence Prevention Collective, a multi-disciplinary community of practice working towards a Nebraska that is safe, just, equitable, and free of sexual violence.  The Collective's core values are:
Being informed by survivors and their intersectional experiences;
Including diverse voices and utilizing anti-oppressive frameworks; and
Trusting in the wisdom and support of our communities.
ABOUT THE VISIONARY VOICE AWARDS
The Visionary Voice Awards are presented annually in conjunction with Sexual Assault Awareness Month by the National Sexual Violence Resource Center (NSVRC), a national nonprofit providing information and tools to prevent and respond to sexual violence.  Each year, state, territory, and tribal coalitions select an individual to nominate for the awards. Nominees may be survivor activists, community partners, longtime advocates, policy makers, or other outstanding individuals who have worked to end sexual violence.
To learn more about the 2021 Visionary Voice Award recipients, visit: https://www.nsvrc.org/saam/visionary-voice-awards.
ABOUT SEXUAL ASSAULT AWARENESS MONTH
Sexual Assault Awareness Month (SAAM) is an awareness and prevention campaign observed every April. This year's theme,  "We Can Build Safe Online Spaces," highlights the importance of practicing consent online and building respectful online communities. Join the campaign by accessing free resources at nsvrc.org/saam. Resources are available in Spanish at nsvrc.org/es/saam.